This page, when finished, will have all the photos from various pages of GordonsOfMaine displayed in one place.
In Witchers Mills, c 1914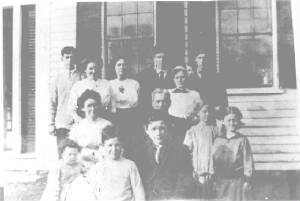 Photo curtesty Bob Coombs
1st row, Norman Coombs, Maurice, Merton, Helena Coombs (Winnie's second child - older Helen died.), Rita McLeese (maybe a cousin; middle row Harriet holding baby Ola Coombs, George W.; back row, Lewis, Etta, Mary, George, Ray, Winnie.
Ola believes this was taken about 1914 while the family was liviing in Whitchers Mills. The house was by the river and burned down several years ago.