Home
2011 Gordon Reunion in Exeter NH!
Gordon Obits
Gettysburg
Maine Highland Games - with The House Of Gordon!!
CONTACT GORDONS OF MAINE
Gordon Hill Cemetery, Exeter NH (Gordon, Graves, Sanborn, Barstow, Bartlett, Magoun, and Perkins)
Nathaniel Gordon, (not related to us) Maine native, from Portland - hung in 1862 as a slave trader.
2007 Exeter NH Gordon Reunion
Gordon News Archive
The Gordon Family Photo Album
Exeter Cemetery and the Winter Street Burial Ground in Exeter
The Gordon family cemetery on Peach Orchard Road (aka "Poor Farm" or "Gordon Road") in Lyman, Maine.
Kennebunk, Kennebunkport, and Lyman Maine
Gordon Genealogy
The Kirk of St. Nicholas, Aberdeen Scotland - where Alexander was christened 400 years ago.
G.W. Emmons's Medal of Honor
Nathaniel Gordon (#314) and his home in Exeter.
The Old Gordon Road Cemetery, Brentwood NH
New Hampton, New Hampshire
The Gordons of Central Maine
Salem (and some Exeter) New Hampshire Stones.
Ladd-Gordon Cemetery, Epping NH
Massachusetts Stones.
Laurel Hill Cemetery, Saco, Maine.
The Gordons Of Fayette, Maine
Gordon Cemetery, Searsport, Maine
Genealogical links and contacts page.
Gordon Family Genealogy Library
The Gordons of Suncook (Head's Cemetery, Hooksett, New Hampshire)
"Stranger," the Confederate grave in a small Maine town.
Glenn Raymond Gordon, killed in Vietnam
More early and interesting gravestones
Bradford Burial Ground, Bradford, MA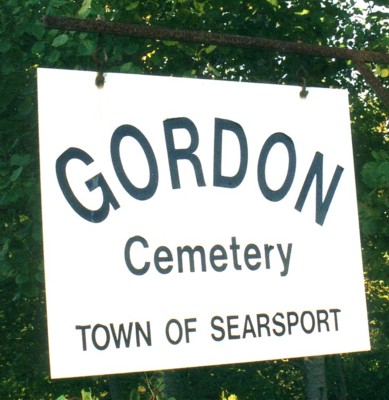 On Route One, just south of Searsport.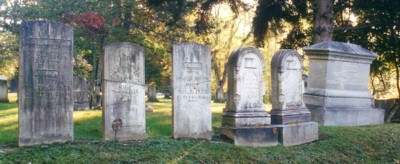 Joseph (#80) and Dolly


"A soldier of the Revolution from Aug 1775 to June 1783."

Joseph Gordon
A soldier of the Revolution from
Aug 1775 to June 1783
died May 9 1849
ae 89 yrs
_____ an honest man.
Dolly
his wife
died May ii 1853
ae 85 yrs 4 mos
The soul of God from death set free
with Joy shall mount on high.

Mrs Mary
wife of Samual Sanders
died
MAy 29 1845
ae 45 yrs
Jesus is our refuge.

Sarah
wife of
CHARLES GORDON
died
Oct 1 1839
ae __ yr 6 mo
Death is the messenger of peace,
And calls the soul to Heaven.

Blessed are the dead
which die in the lord.
Charles S Gordon
died
Jan 12 1875
ae 18yrs 1 mo
& 10 ds

There remainth _
therefore __a rest __ for
the People __ of God.
Eliza Jones
wife of
Capt Charles Gordon,
fell asleep in Jesus
June 30 1889
ae 80 y's 8 m's & 3 d's


The large stone:
GORDON
Charles Frederick Gordon
May 7 1843 - Oct 22 1901
son of Charles & Eliza Jones Gordon
>back<
Charles F Gordon Jan 10 1829 - Oct 1 1841
Andrew Tyler Gordon Dec 19 1830 Dec 28 1855
John Smith Gordon Oct 22 1831 - Oct 7 1864


Charles (#213) and Elizabeth



Mrs. Mary (Gordon) Saunders


Daughter of Joeseph (#82)

As you enter the cemetery, these stones are to the left rear under a large fir tree.

Sarah, 1st wife of Charles (#213)



This cemetery is well back from Rt.1 on a gravel road. It is still in use today, and is maintained by Searsport.