Home
2011 Gordon Reunion in Exeter NH!
Gordon Obits
Gettysburg
Maine Highland Games - with The House Of Gordon!!
CONTACT GORDONS OF MAINE
Gordon Hill Cemetery, Exeter NH (Gordon, Graves, Sanborn, Barstow, Bartlett, Magoun, and Perkins)
Nathaniel Gordon, (not related to us) Maine native, from Portland - hung in 1862 as a slave trader.
2007 Exeter NH Gordon Reunion
Gordon News Archive
The Gordon Family Photo Album
Exeter Cemetery and the Winter Street Burial Ground in Exeter
The Gordon family cemetery on Peach Orchard Road (aka "Poor Farm" or "Gordon Road") in Lyman, Maine.
Kennebunk, Kennebunkport, and Lyman Maine
Gordon Genealogy
The Kirk of St. Nicholas, Aberdeen Scotland - where Alexander was christened 400 years ago.
G.W. Emmons's Medal of Honor
Nathaniel Gordon (#314) and his home in Exeter.
The Old Gordon Road Cemetery, Brentwood NH
New Hampton, New Hampshire
The Gordons of Central Maine
Salem (and some Exeter) New Hampshire Stones.
Ladd-Gordon Cemetery, Epping NH
Massachusetts Stones.
Laurel Hill Cemetery, Saco, Maine.
The Gordons Of Fayette, Maine
Gordon Cemetery, Searsport, Maine
Genealogical links and contacts page.
Gordon Family Genealogy Library
The Gordons of Suncook (Head's Cemetery, Hooksett, New Hampshire)
"Stranger," the Confederate grave in a small Maine town.
Glenn Raymond Gordon, killed in Vietnam
More early and interesting gravestones
Bradford Burial Ground, Bradford, MA

Look for stones from Haverhill, Methuen and Lawrence to be added here.

GORDON

Nathaniel Bachelder

Born in Exeter NH

March 2 1791

Died in Lawrence Ms

October 29 1847

Lydia Lamson

His Wife

Born in Exeter NH

Died in Springfield Ms

July 6 1877

[back]

Caroline E

daughter of

NB & LL Gordon

Born in Exeter NH

Feb 2 1821

Died in Somerville Ms

Feb 15 1881

Lydia L

Daughter of

NB & LL Gordon

Born in Exeter NH

Nov 8 1824

Died in Chicago Ill

June 13 1906

Nathaniel Bachelder Gordon (#153), Lawrence MA


There's a wonderful painting of Nathaniel pictured in AGD

Inscription on Nathaniel's Stone.


On the high point of the hill in Bellvue Cemetery.

Benaiah and Phebe (Haskell) Gordon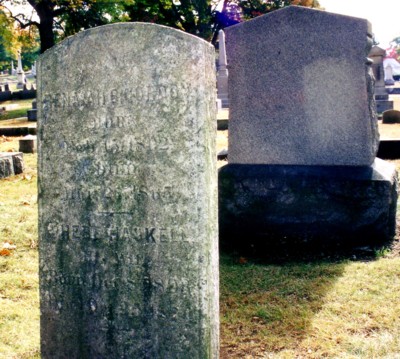 Walnut Grove Cem, Methuen MA
Benaiah and Elizabeth Gordon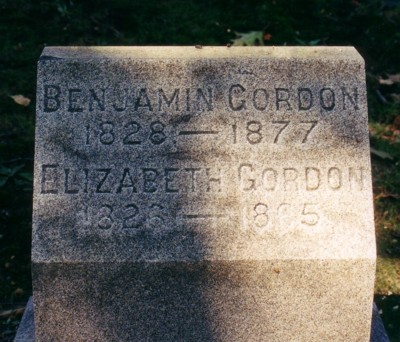 Walnut Grove Cemetery, Methuen
Asa C. Gordon